About Jewelry by Johan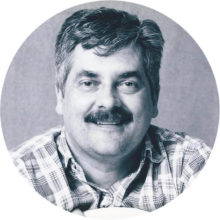 Hello and welcome to my online store.
I'm Johan, a ring designer and personal custom jewelry manufacturer. I have been making jewelry for many years. My passion is in the creative process.
---
Jewelry by Johan: Humble Beginings
2008: Jewelry by Johan was still a part-time, two-person show with myself making rings and my lovely wife doing the admin.
I have to note that my wife is an artist in her own right and is well known for her hand-painted art that sells all over the world. We have a shared passion for the arts and her undying support is what keeps me driven.
2010: My son-in-law, Kevin, joined Jewelry by Johan as we continued to grow and I needed help.
2011: The year my dream became a full-time business.
2013: Following a dramatic increase in orders, I was joined by my daughter Leanne. As the customer relations and administration work increased drastically, we expanded the company with extra employees to process orders and answer the massive amount of emails we receive daily.
2016: Jewelry by Johan's Etsy store celebrated its 30,000th ring sale.
Jewelry by Johan is known for its great customer service and I want to keep it that way. Your satisfaction is our guarantee.
This is and will stay a family business.
I have a "can do" attitude and enjoy a great challenge. Other than the materials mentioned in my Favorite Materials section we can draw any ring on our CAD system, custom carve any ring out of wax on our 5-axis Milling Machine and then cast it for you. We can make you ANY ring you have seen in ANY catalog, store window or the Internet, you give us a picture and we will make it for you.
I carve wax jewelry as well as cast stones in place into the wax.
I can set any stone (diamonds, sapphire, birthstone, etc.)
Contact me, my prices are very competitive, we work within your budget.
I am proud to say that all jewelry produced by Jewelry by Johan are 100% made by us on our premises. Proudly hand made in the USA.
Sincerely,
-Johan Rust